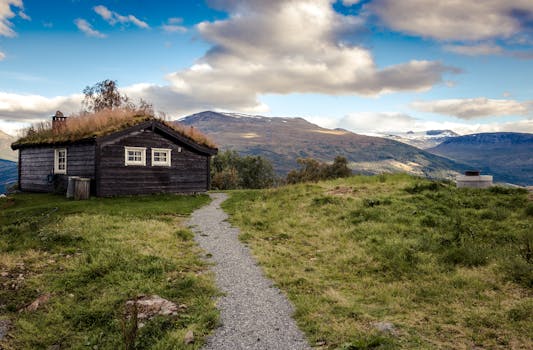 If you're running out of space in the house but do not want the hassle and expense of building an extension, a log cabin might be a relatively quick and easy solution.
This sort of structure can make an ideal home office, playroom, workshop or games room, providing an attractive outdoor retreat in addition to adding interest and value to your house. Here are a few practical pointers for anyone contemplating a log cabin:
What's the difference between a log cabin and a summerhouse?
Log cabins share some features in common with summerhouses but are bigger, more substantial buildings created from much thicker timbers. Their walls are built up using interlocking precision-cut logs that slot together so tightly that no fixings are required. Floors and roofs are usually constructed from close-fitting tongue and groove wood, leading to strong and watertight structures suitable for a whole assortment of uses.
The logs are typically made from kiln dried wood. This process extracts moisture from the wood to a precise level, which reduces warping and minimises the risk of splitting.
Not all log cabins are the same. Wall density can range from approximately 28mm up to over 50mm, and flooring are usually between 19mm and 28mm thick. Some cottages are double-glazed, making them usable in all weathers, whereas others might only have single glazing, so check before you buy.
As for roofs, most are around 19mm thick and available with a choice of covering. Felt shingles are widely believed to be the most appealing, but you can also get corrugated bitumen panels and felt sheeting.
Think about the shape of the building as well. Log cabins with pitched roofs are usually taller than those with flat or sloping roofs, which may sometimes limit where you have the ability to place them on your garden. And traditional chalet-type structures with roof overhangs frequently take up more ground space than modern minimalist designs, so remember to allow for this when measuring up.
If you are thinking of erecting a small detached building such as a log cabin, shed or sun room in your garden, you will not normally need planning permission. These are the main points to bear in mind:
1. You're not allowed to place a construction beyond the front wall of your house – in other words, in front yard.
2. No more than 50 percent of the land around the first dwelling can be consumed with outbuildings or extensions – so if you have a tiny backyard, measure carefully to be sure there is enough space left over for a cottage before you commit yourself.
3. Height is a major element. If the cottage is less than 2.5m tall at its highest point, you can place it within 2m of your boundary – otherwise, you'll have to position it farther away.
Do log cabins have to follow building regulations?
Building regulations are safety rules that govern how well a structure is built. Even if the cottage is between 15 and 30 square metres, it will generally just have to meet building regulations if it's situated less than 1m from your boundary.
However, if you're hoping to use the cottage for a granny annexe, guest room or vacation let, then it has to comply with building regulations since it is going to include sleeping accommodation. This applies to any size of cabin and is down to security reasons.
Where is the best place for a log cabin?
Put the cottage on a level part of the garden. Leave a fantastic gap all around the building so that you may reach the walls to employ treatments or execute repairs, and remember to allow for roof overhang when measuring the distance available.
Don't position the cabin where it will block out your neighbors' light, and be aware of planning rules – if the building is more than 2.5m tall, then you ought not put it within two metres of the boundary.
Consider the direction of the sun, as you may not want sunlight beaming straight in if you're going to use the cottage as an office. Think about convenience too. If you are planning to install electricity in the building, putting it near the house will make it much easier to connect a power supply.
What foundation do you need to get a log cabin?
Good foundations are vital for any garden construction. If the base isn't strong enough, or is slightly irregular, the walls will eventually warp.
For adequate support, it's ideal to put the cottage on a 150mm thick concrete foundation. A paving slab base ought to be sufficient for smaller cottages of less than 30m², as long as it is completely level. Try to make the base exactly the same size as the cottage for a neat appearance.